Get started with Mobile upload

Welcome to Mobile Upload

(Iphone)

The "Mobile upload" application running on your smartphone/pad enables you to upload and share images and/or video clips to all the available destinations in Mediabank. Primary destinations from the mobile upload in Mediabank are Review & Approval or Library, and from there secondary destinations could be anything from smartphones, web/ftp sites, YouTube and so on. The distribution of the media files (assets) can be done manually or automated by predefined workflows i Mediabank.

Visiting a potential location for a scene/event and you need comments from project members? Use your smartphone, shoot a sequence and upload it with comments, metadata and distribute it from the Mediabank applications like Quicklink.

Or maybe you are a coach, recording a match and plan to use the clip in "Events " for education, tactics or just for distributing the goals to supporters?

With the introduction of the mobile application, the Mediabank solution has become more versatile than ever and delivers additional opportunities for you to work more efficient than ever.

Get started

First, go to "Appstore" and locate Mediabank mobile upload app. Install and start it. Log in to the Mediabank services. Login/password is your existing Mediabank credentials.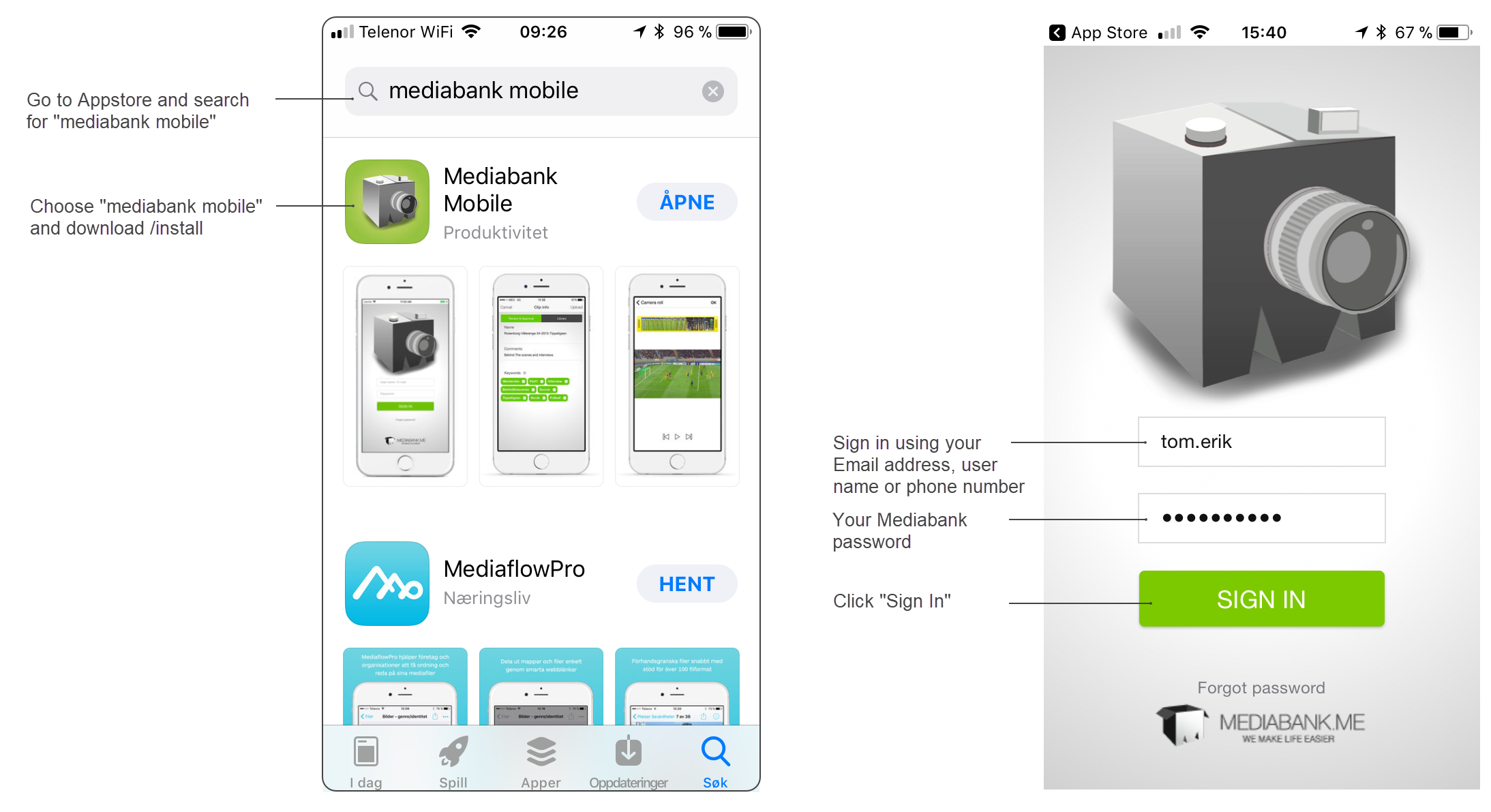 Click on "forgot password" located in the low left of the mobile screen and follow the instructions if you encounter any kind of login problems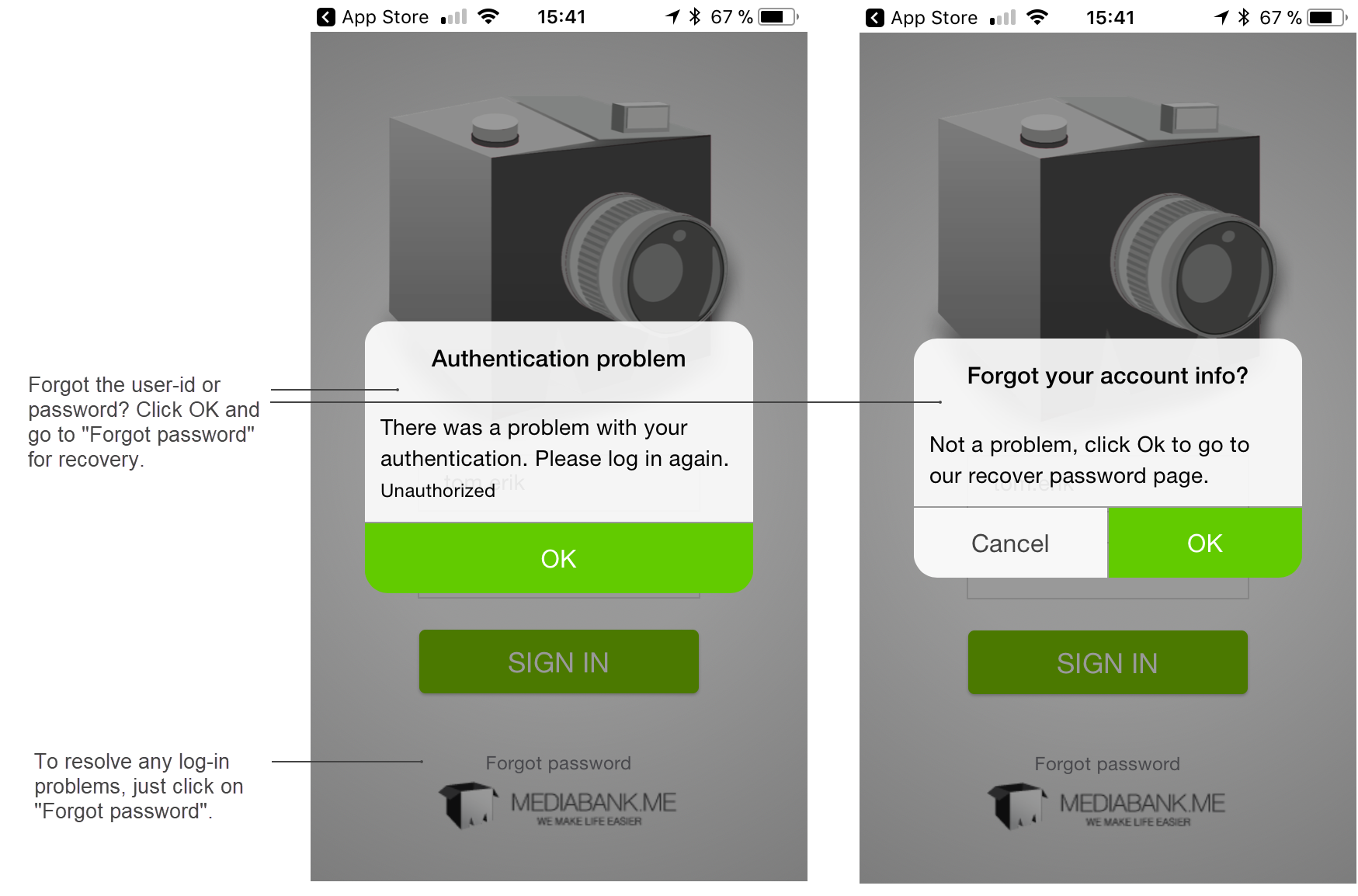 When clicking on Forgot Password, a new Mediabank reset password menu will appear. Fill inn your Email and phone number and click on "Request new".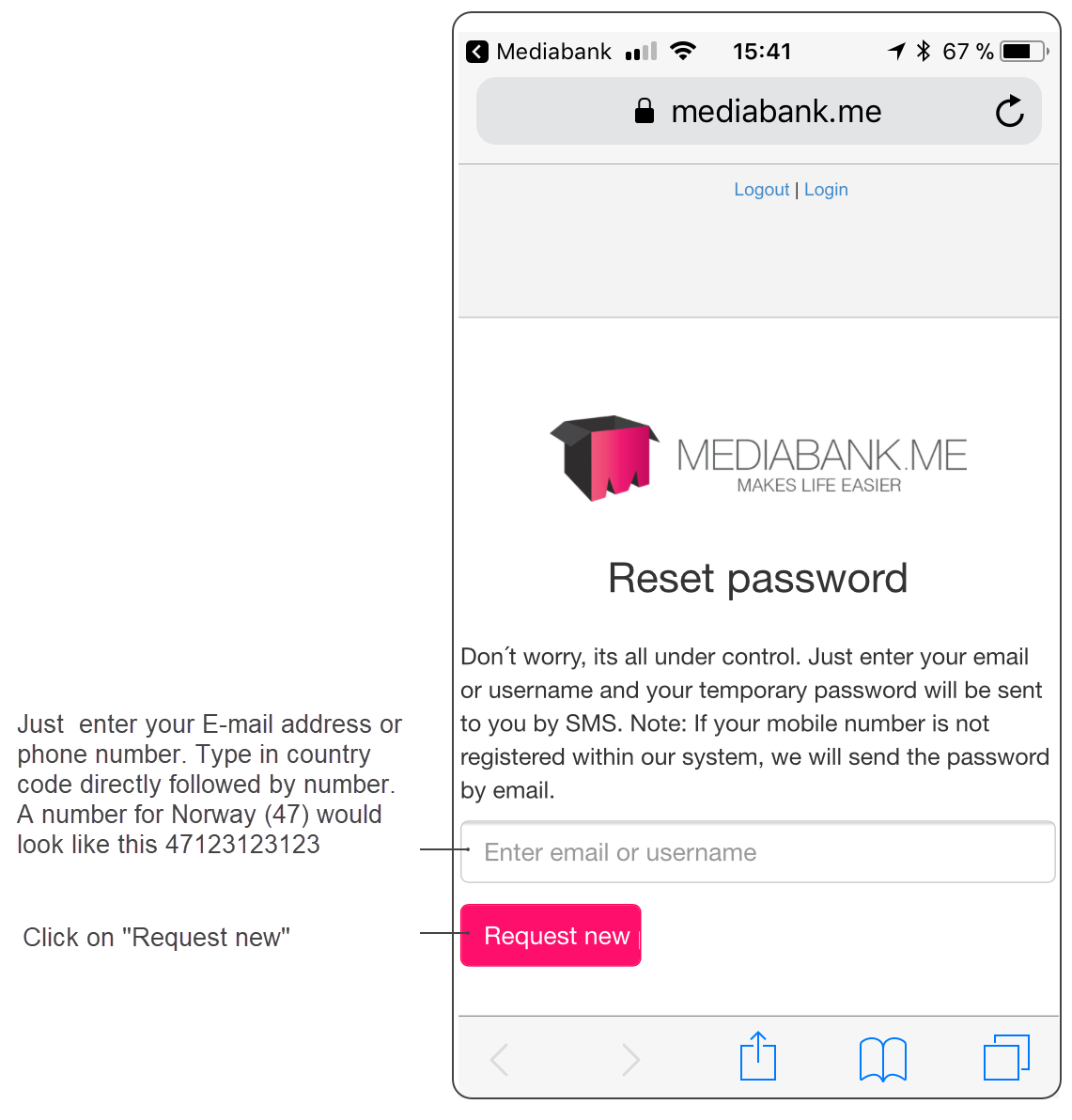 You need a corporate account and initiating this from your smartphone/pad does not seem like a good idea. We suggest you go to
mediabank.me
and take contact with us. If your corporation already have a Mediabank account you should contact your Mediabank administrator to obtain a user id and password.
If you are all set with user-id and password, you will see the main menu unless you start the app for the first time. Then you will see introductory screens like the below examples.

The mobile application will ask for access to microphone, camera, storage and much more. To achieve full functionality, you must answer yes to all.

Note!


Mediabank supports multiple accounts. Mobile upload will deliver the media content to the last account you visited.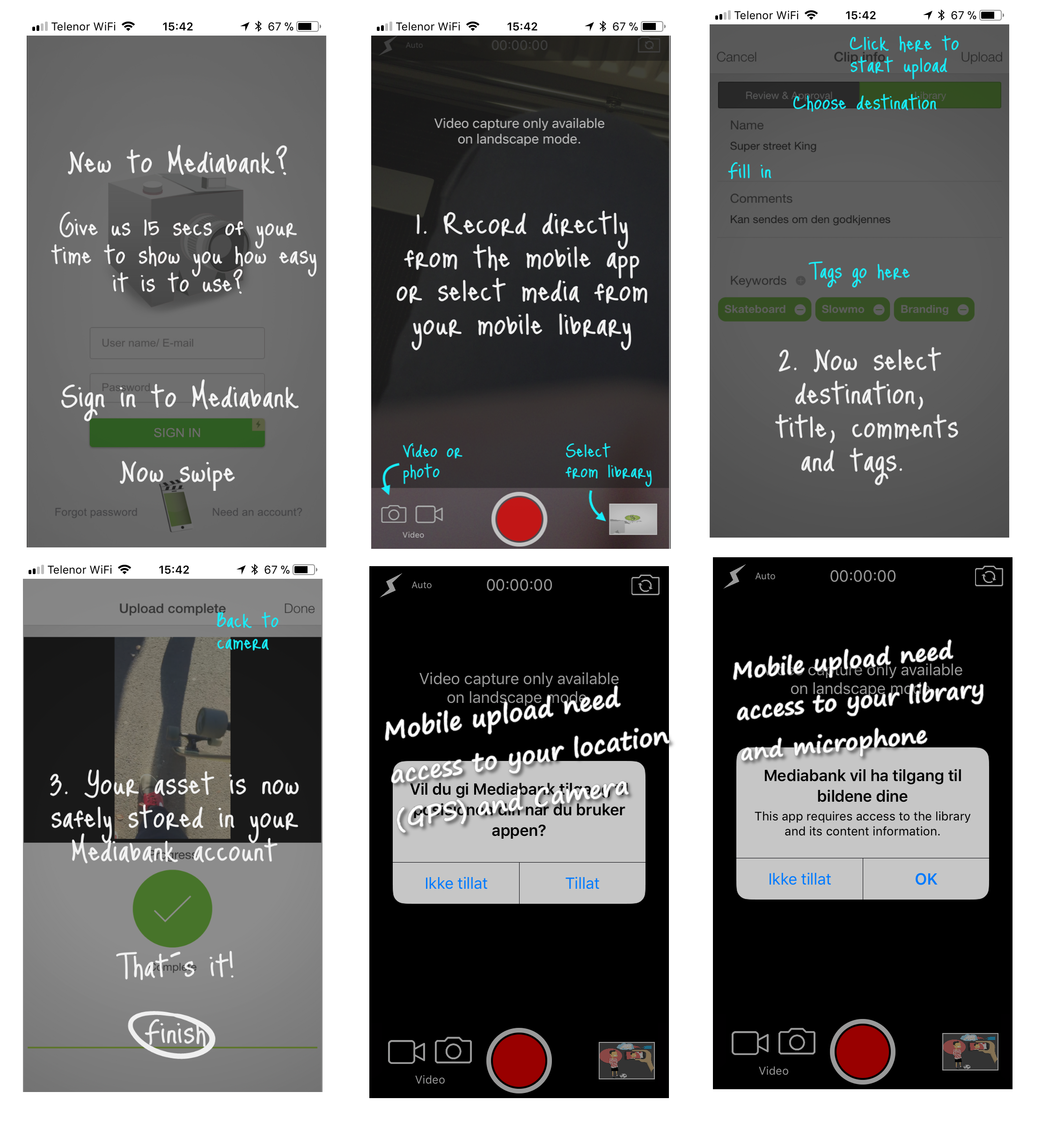 Start recording

You can record and directly upload to Mediabank or choose to select an earlier recording from your smartphones library/media folder.

Remember that you can only record in landscape mode from this application. This is done to obtain the highest level of recording quality. (Note that there is no restriction if you choose an earlier "vertical" recording from your library and upload it.)

You can also allow Mediabank to obtain your geographic location before your recording take place. The location data will be stored as metadata an can be used by other Mediabank services.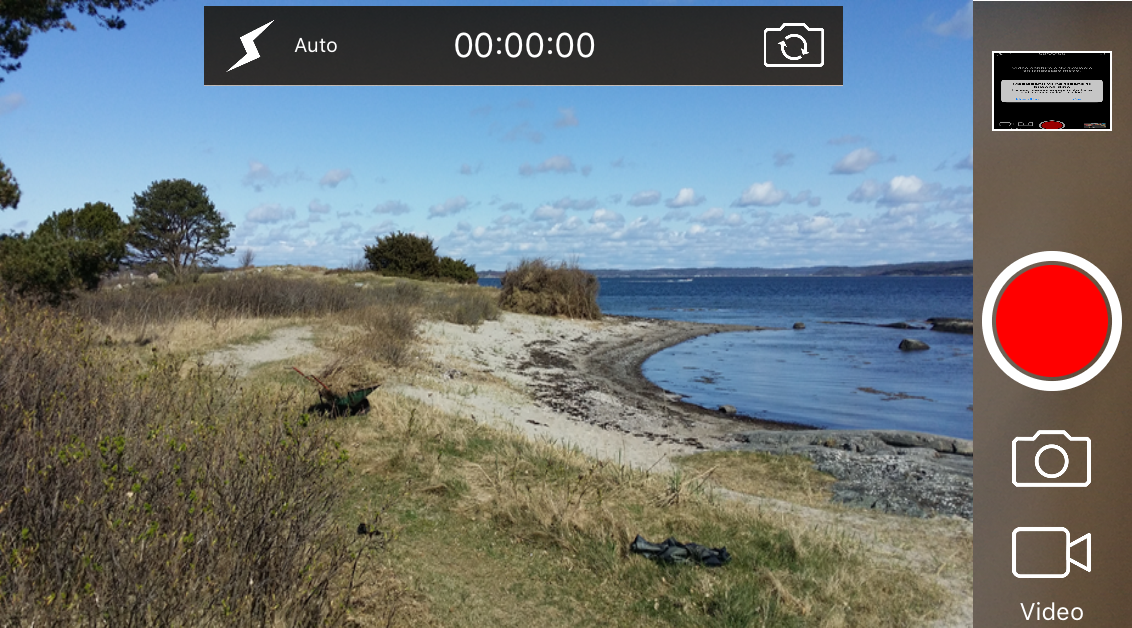 Editing your recording and upload

The "Mediabank mobile" contains a simple edit function that enables you to crop your recording before upload.

You are now ready to upload your media clip to Mediabank. Choose "Review & Approval" or "Library" as your destination, name the recording and add comments/tags/keywords. Your recording are now ready for upload.

Click on "Upload" in the upper right corner on your iphone.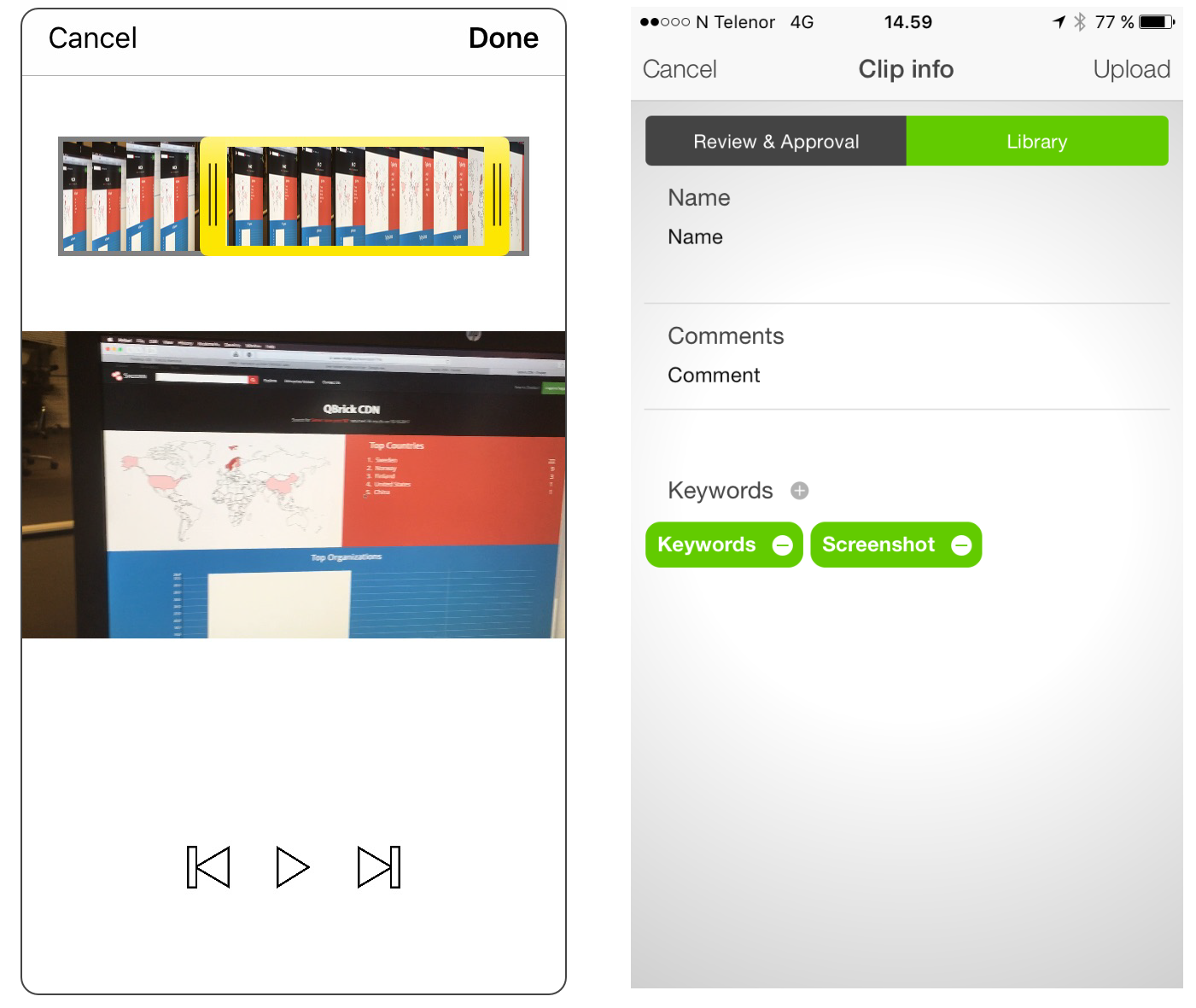 Click on upload. A control screen to monitor the upload appears. You will be notified with a large green circle and the text "Upload complete" when uploading is finished.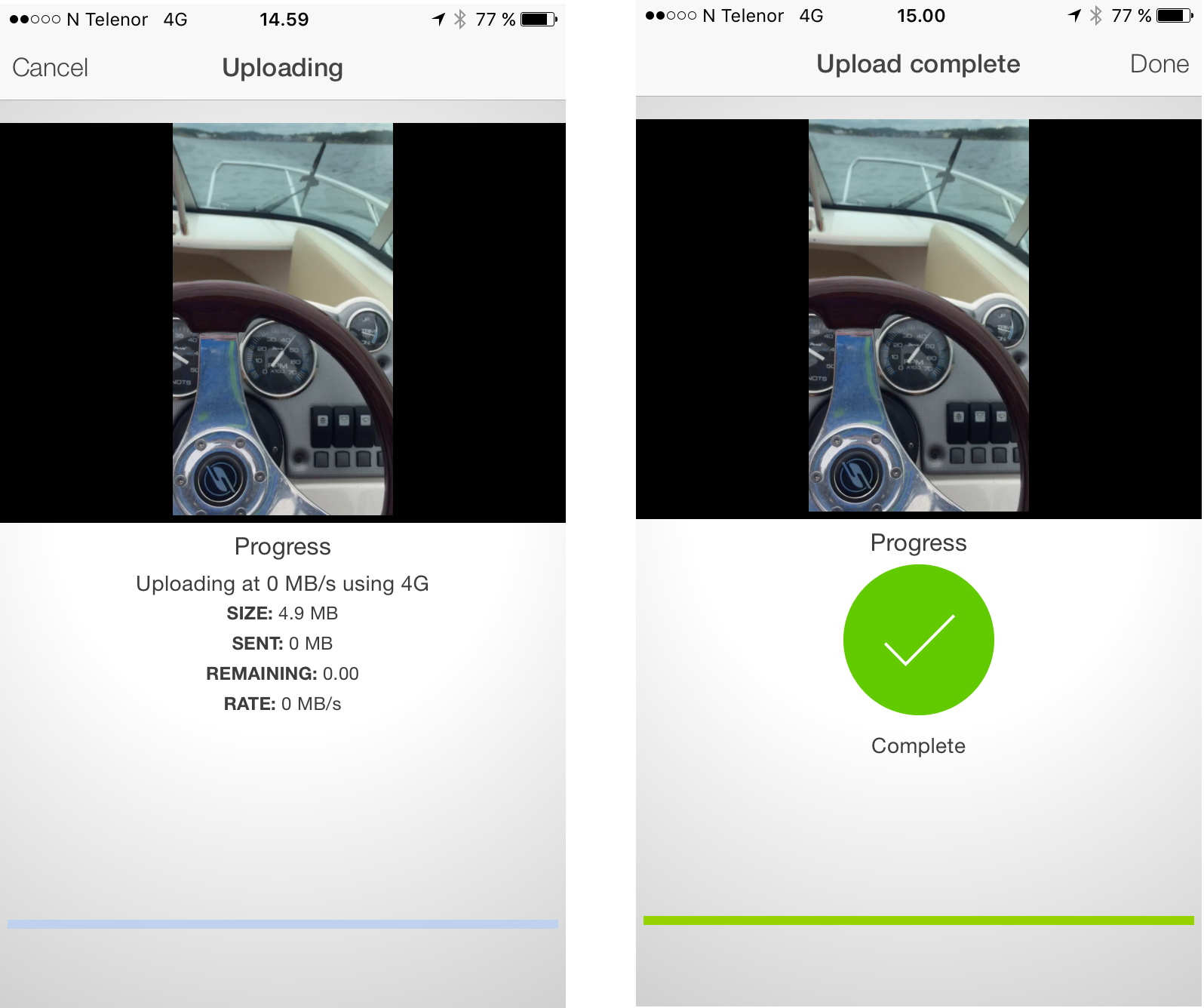 Your upload is now finished and your co-workers/group members can review the clip in Mediabank Review & Approval or Library.