Welcome to Review & Approval

This version of Review & Approval was released Aug 2016 and contains many important updates.

In this version, many of the less frequently used functions are now moved to underlying menus making your workspace emerge without disturbing elements and helps you to work focused and efficient.

The main window still consists of three major elements: Search and asset list to the left, Mediaplayer in the middle and the Meta module to the right.

All of the other functions are now placed under the contextual button named MENU in the top middle of the screen.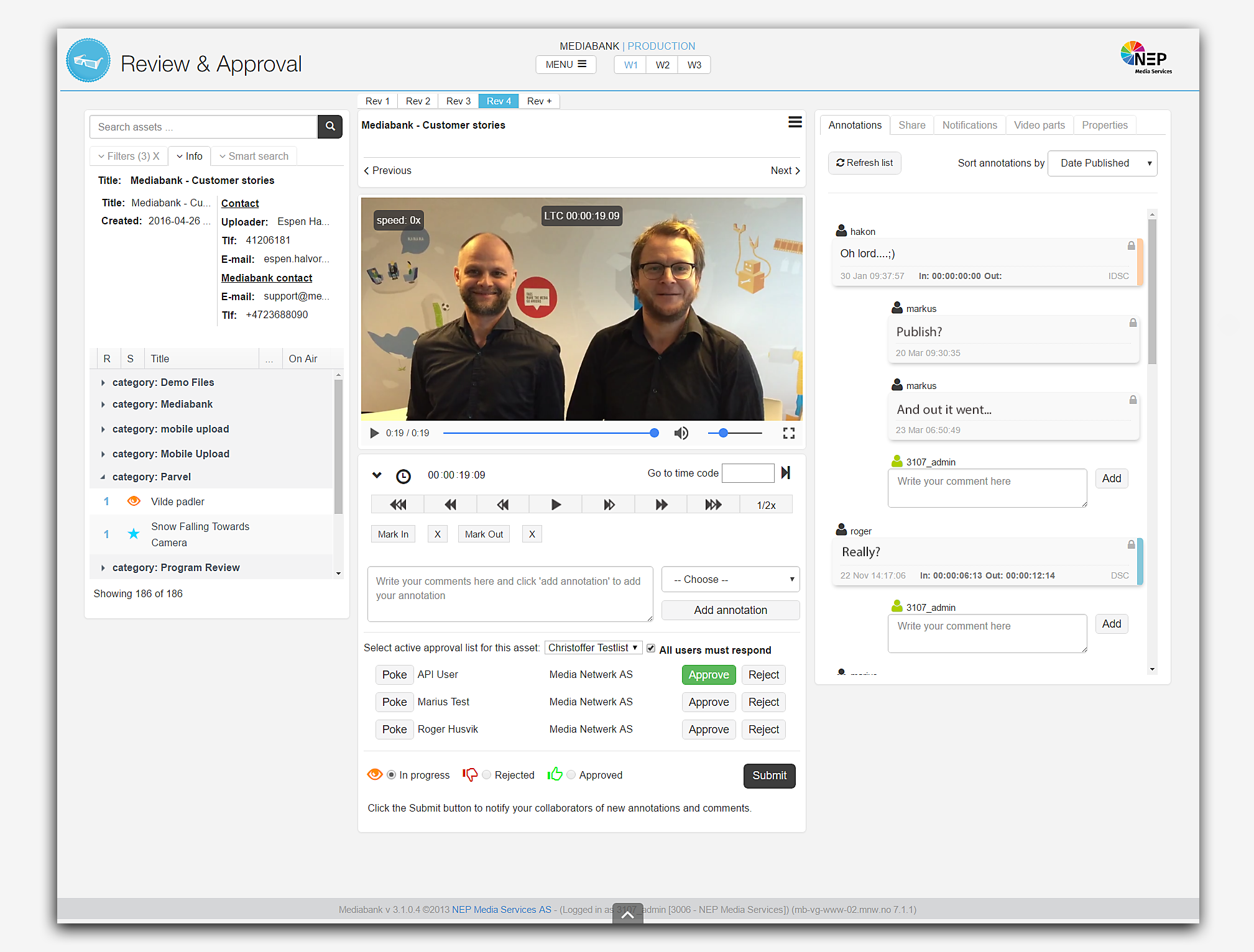 Architectural overview

To simplify the documentation structure and even make the dialog with support easier, we have developed the mediabank applications within the same architectural structure. This documentation will refer to modules and components that this and future applications will share.

The above image showing Review & Approval will be almost identical when viewing other Mediabank applications. You will find the same modules with minor differences, making it easier for you to switch to other applications and understand their functions.

More detailed documentation are described in the corresponding documents.

Header module

Many of the less frequently used sub-applications are now moved into the Header module. Information contains how to switch accounts, work spaces (W2, W3), login info, logo handling and much more. Be aware that the Header module are related to all the other Mediabank application and will change its content and functionality depending on the application you work in.

Search module

Here you can find more information about the powerful search and filter functions i Mediabank. Everything from creating smart searches, manually grouping mediafiles or using projects.

Asset module

The asset module contains your workfiles and their status. Information could be On Air date, revision, rejected in the approval process or approved. You decide the content that suits your need best.

Title module

Contains information about the assets main identifiers and revisions. It even provides a short cut to corresponding grouped mediafiles.


Player module
The player module contains the new frame accurate mediaplayer. Read more about it and its different overlays.

Navigation module

Learn how to navigate around with the media player and select sequences down to frame accuracy.

Status module

Learn how to change your asset status and notify resources during your review process here

Meta module

This comprehensive module contains a number of functions for sharing, collaborating, making of event clips and much more.