The Header menu content are now more application specific. To activate the Header MENU functions you must first click on MENU. A sub menu will appear and looking at the first image example (Library) you will see 5 vertical menu silos:

App switch - Here you choose between the different applications available to you. You can from release 3.1.0.0 also select the different workspaces from the app switch.

Tasks - The Task menu contains asset (mediafile) specific actions meant to help you in your daily routines. Depending on the application you are in, different tasks will be available.

Actions - The collaboration section where you share/transfer/download the assets.

Administrative Tasks - With Administrative rights you may perform asset specific changes.

Contact / Support - Your contact for support, documentation, Release Notes and Log out.

The Workspace buttons W1, W2, etc. The "W" stands for workspace with different content and columns. Letting your mouse pointer hoover over the different workspaces will trigger small info windows. You can also see in the same information in the APP SWITCH silo.

While working on the asset you are free to choose between the different workspaces and select the one that suits you most. Depending on your access rights, the menu texts may be grayed out and not possible to activate. Contact your administrative contact in order to change your rights. Or, you simply forgot to load or select an asset and everything is grayed. Select an asset and you will see the options available.

The logo all the way to the right (if visible) indicates your present account. Your name, and again your present account is displayed in text above the workspace area. And finally, if you wish, click on the logout button to return the main menu. Depending on the application you reside, the Menu content will differ slightly.

Changing your account

Some users represent different accounts and need to move between those. At the right bottom part in your menu you will find a text saying "Now representing" NEP MEDIA SERVICES AS. By clicking in the drop down menu you will see all the accounts you represent and by selecting one of them you move immediate to the selected account. There are no limitations to how often you change your account.

Administrative tasks

Common for all of the applications are the ADMINISTRATIVE TASKS. If you are granted the rights to make changes, you can perform modifications to your selected asset. In this case, the user has no rights to perform changes and experience the menu items is grayed out.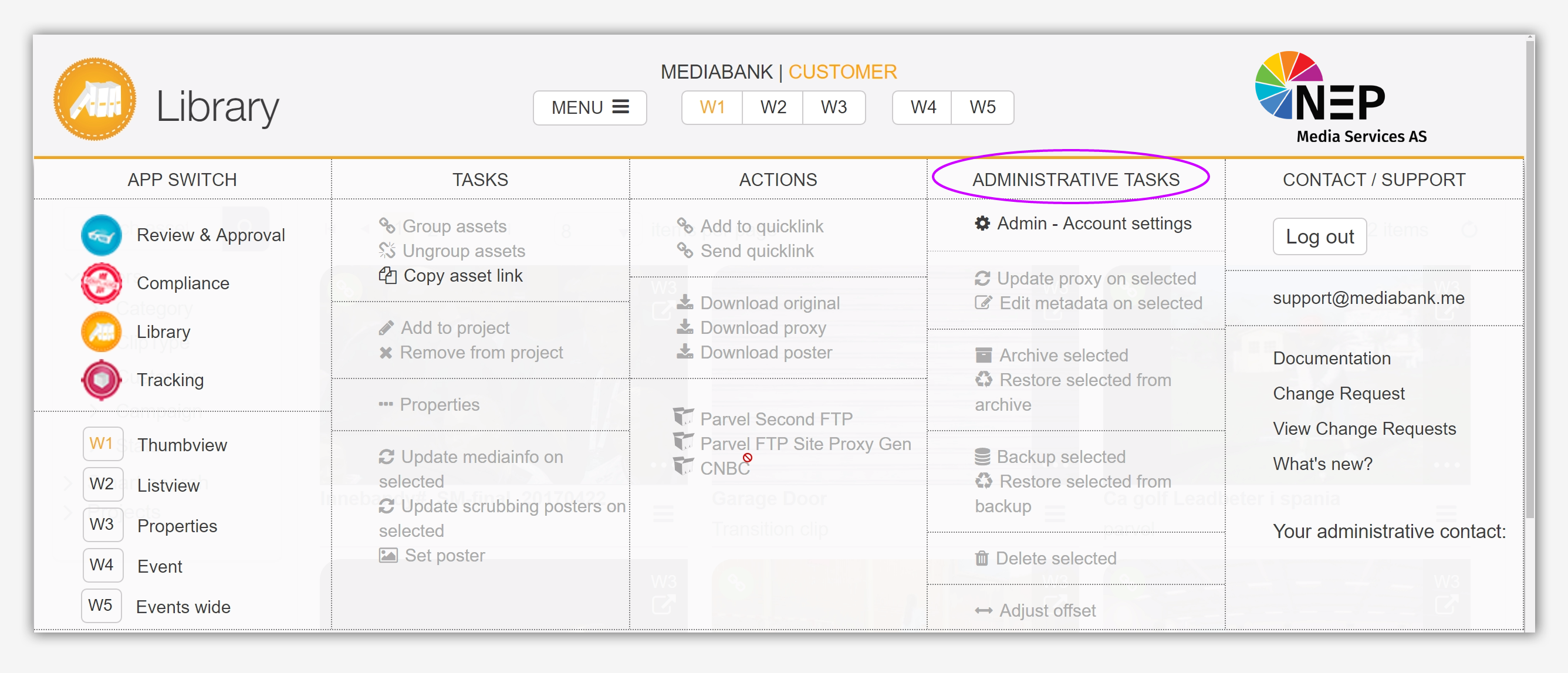 Administration Header Menu

Selecting "Admin-Account settings" from the ADMINISTRATIVE TASKS silo will bring you to the Administration application. From here you can manage the behavior of applications, user and company preferences if you are granted the privilege to do so .