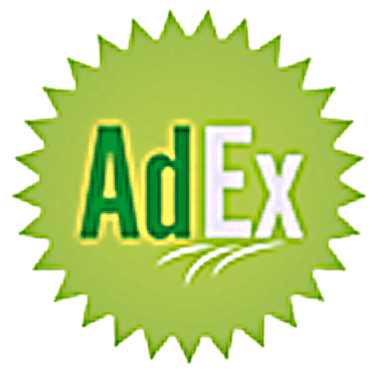 Uploading assets from the Mediabank AdEx application
This document provides a step by step guidance when delivering media files to MTG.

Important:
From October 2016 (Mediabank 3.0) you may need to change your firewall rules in order to deliver mediafiles to us (Mediabank). Read more here:
New firewall rules
Mediabank AdEx provides the easiest and most reliable asset transfer in the market. You will be guided trough the process with predefined forms to secure that mandatory information is provided and correct.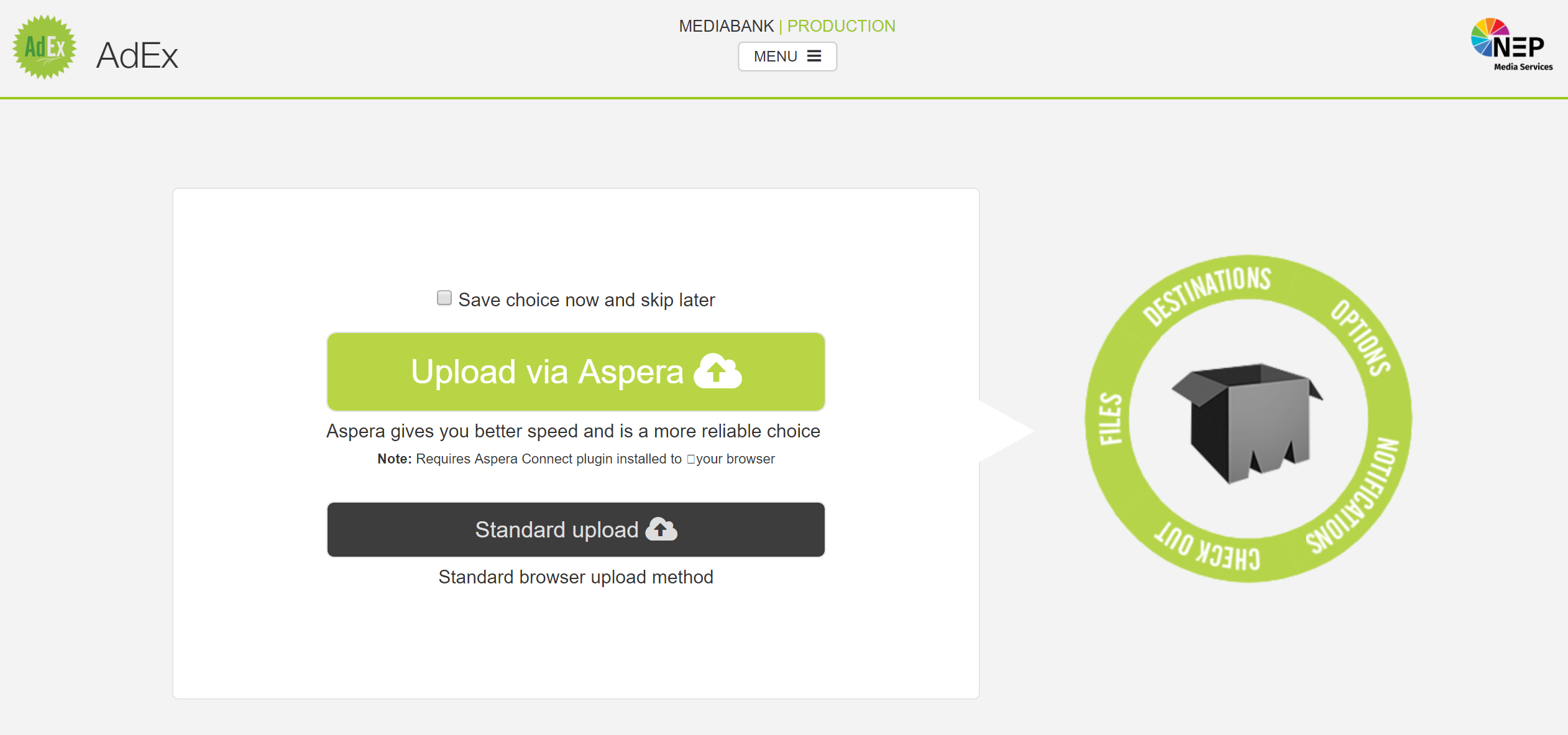 The above screen image shows the AdEx opening screen. You can choose between two options, Aspera upload and standard upload.

This plugin secures your asset to be 100% error free upon delivery and it also use advanced compression techniques to speed up the transfer.

By choosing this method the AdEx application will check if the Aspera plugin is loaded and active. If yes, you will see the below message in top of your screen.

If not present, you will be guided to the Aspera support site to download it.


By choosing this method you simply use your standard file transfer functions in your browser.

If you get tired of this option you can "Save choice now and skip later" in which means that it will remember your credentials and skip straight to next screen as shown below.

If you regret your choice of transfer you can get back to the opening screen by pressing: < Change upload method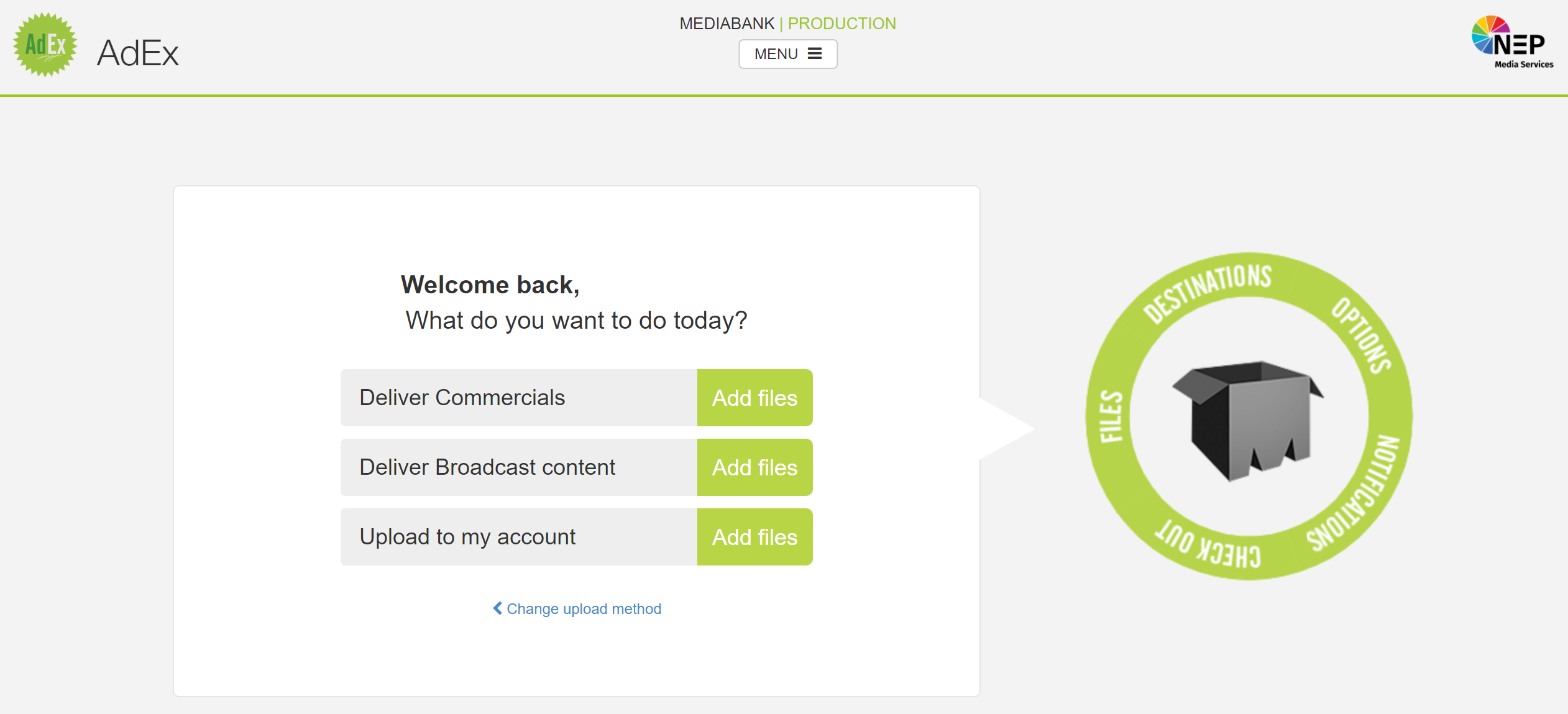 Deliver content to MTG

You can deliver both commercials and broadcast content to MTG. Both destinations are supported by easy to use templates to ensure the metadata quality. Select Commercials or broadcaster and click on respective "Add files" button. You can select one or multiple assets in one operation for delivery. Both Broadcast and Commercial content are described below in separate sections.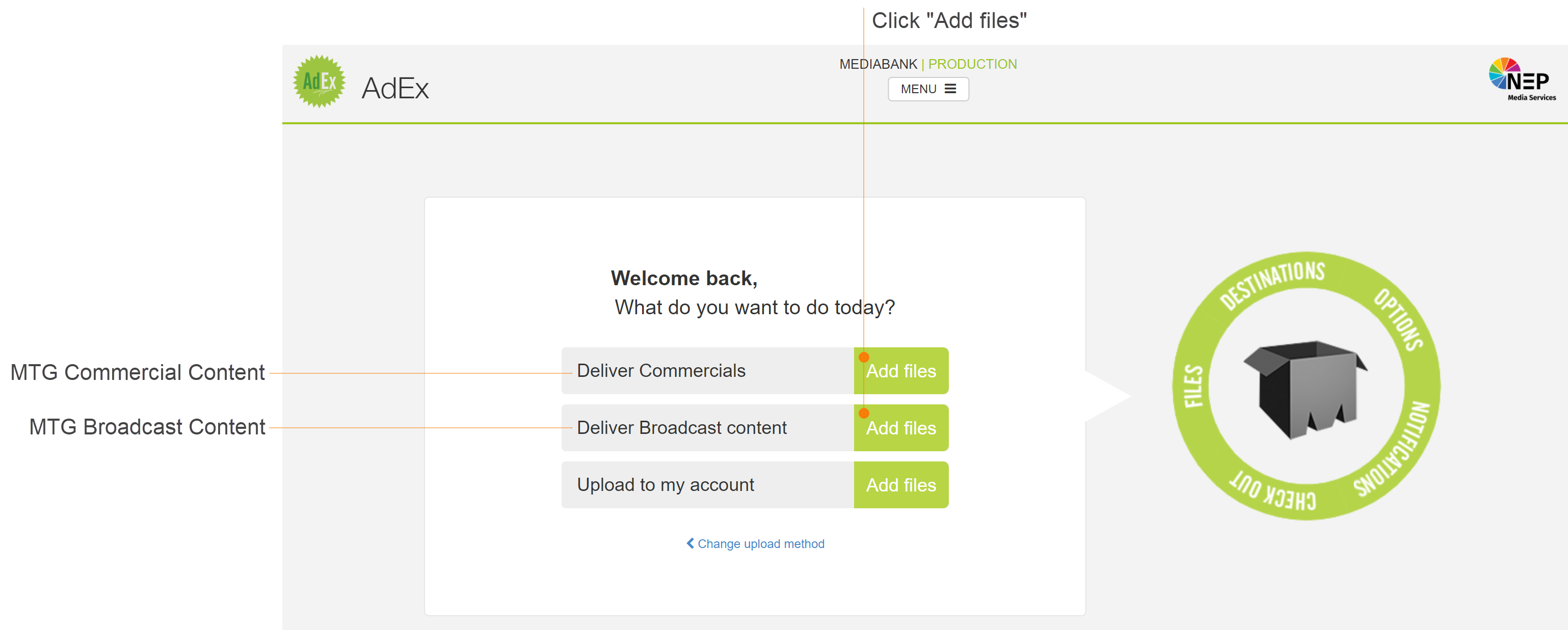 Deliver Broadcast Content

After you have selected the Aspera or Standard upload you will find yourselves located in the above image.

And since you have selected this document you already know that "
Deliver Broadcast content
" is the way to go. Click on the green area to the right with the text
Add files
.
Observe: The green wheel to the right is not documented since the input and selections are handled by the MTG selected schemes it selves, when delivering the broadcast content.

When you are done clicking on the green
Add files
and finished selecting your Media file (or files) you will see something similar to the below menu.
File: That is the name of your media file ready for upload, normally with MOV or MFX extensions.

Destination: Again, select the MTG destination that suits your purpose.

Type: Selecting MTG Norway (In this example) provides these options in the drop down menu.

Program Master MTG

Promo Clean Master MTG

Promo Master MTG

Raw Material MTG

Review files MTG

Web Master MTG

Media Id: You need to know your unique MTG media Id and fill it in here. This is mandatory and without it, you will go nowhere. Your Media-Id is obtained from your project manager in MTG

Tag: If you have filled in your correct Media Id then the Tag field will open a whole new set of additional inputs fields for entering your metadata.

At this point you can click on
+ Add more files
to load them into the Upload queue or just continue to fill in the TAG scheme for the present media file. You must however repeat the procedure separately for each media file including filling out the Tag scheme for each media file.
At some point you may have selected the wrong media file for upload and you wish to remove it. Just click on the X all the way to the left of the file name and it will be removed from the upload queue. The original media file is not deleted.

If you should try to speed up the transfer with attempt to bypass the TAG process by clicking on the
CHECKOUT
button you will be prompted by a message like below.
The TAG input schemes

Clicking on the Tag entry will reveal all the input field necessary to fill inn before the media file is checked out and ready for upload.

You will probably see one of the below schemes in expanded view dependent of the "Type" you selected. This document will focus on "Program Master". Check the heading In the upper left corner in the TAG scheme to secure you have the correct media file "Type". As you can see below there are different schemes for each medial file type.

If not already expanded, just click on the Media Information text to continue.



Additional information Promo Clean Master

A clean version of each promo produced for air on MTG should be delivered and uploaded by the production companies to Mediabank for future use by MTG.

As a first step, house numbers for each clean promo have to be requested from MTG's scheduling department.

The request should ideally come from the marketing teams dealing with the production companies. The marketing teams have to email the scheduling department in London to request house numbers for each clean promo that will be uploaded, including promo names and durations.

Once you have the house numbers, you can use them to upload the clean material to Mediabank.

The production companies should under no circumstances be re-uploading cleans under the same house numbers!

If they do make a mistake or would like to deliver an updated version of a promo, they will have to send us an email, cancel the incorrect clean along with its house number and request a new house number for the corrected version.

If you need any help with uploading or you happen to have any technical issues with Mediabank uploads, please contact
support@mediabank.me
Media Information

Based on your obtained Media Id you attached to the media file, you will find the retrieved media information automatically filled in. Ensure that it is correct before you move on to next step.

If you find the information contain errors you should contact your local administrator before proceeding further.
If you feel a need to check the technical specifications you can find the documentation here:
MTG - file delivery specs
or click on the "
Technical specifications
" in the TAG scheme.
Depending on the specifications, the media file will undergo an automated technical control but even a manual control by the Mediabank managers.



General Information

The next step is information of a more general character.

Notification list:

Clicking on Notification list will open a drop down menu of available predefined lists. Select the list that contains the recipients you wish to notify.

Unless you are instructed to choose one, there is actually no present need to select a list since the TAG scheme contains the relevant recipients by default.

Production Company:

The production company that is responsible for the production and the delivery. They will also be the recipient of the invoice from this delivery.

Post Production Company:

Here you select the name from available post production companies in the drop down folder. It could also be the same as the Production Company



Version Information

Fill in a description about this revision (version) vs. previous revision. (Not technical information). You can expand the text area window by dragging the lower right corner down and/or to the right.



Subtitles

Spoken language.

Select from a drop down menu for all spoken languages that need subtitling. Norwegian is already selected as default.

Comments for subtitling.

Additional information about subtitling can be entered here.

Contains distorted voice?

Check the box and enter additional information around the dialog in the distorted area.

Media Parts

Start of media: Is always 09:59:50:00

End of media: Are calculated from the time codes from the Part 1 to Part #.

With additional 10 seconds black frames at the end of media.

Part 1: Timecode always start 10 sec delayed

Total duration of parts HH:MM:SS:FF is the calculated time excluded all pre/post frames.

Normally you end your media parts with the last frame 24 (FF).

If the Media delivery contains more than one part, then fill in the media start details and the total end of the media including all video parts. Click "+ Add another" for each additional Media part.

Viaplay Info

If the media asset is eligible for Vod streaming service, you must answer Yes.

Audio Information

Read more about Viasat productionrules here: Production Kit 2016-2_loudness.pdf

Comments

This is the place to write down any technicality issue, information about the delivery or Media issues. It could also be information about the media that contain deliberately distorted quality/colors or similar.

Press
Done
when ready and that will take you back to the opening screen. Your TAG button contains a "check mark" and you are ready to click on the
CHECKOUT
button.
Pressing the
CHECKOUT
button will provide you with a delivery information containing:
Mediabank application: Mediabank AdEx

Client: Media Netwerk AS

Number of files: #


The name of the file(s)

Type: In this case a MASTER

Destination: Program Master MTG


The cost and VAT specified

Read the terms & conditions and click inside its check box.

You still have an opportunity to make changes to your delivery by pressing "Go to Files", otherwise click in the
Confirm Checkout
box and you are done.
Deliver Commercial content

Identification

After your selection of asset(s), you must fill in the Identification.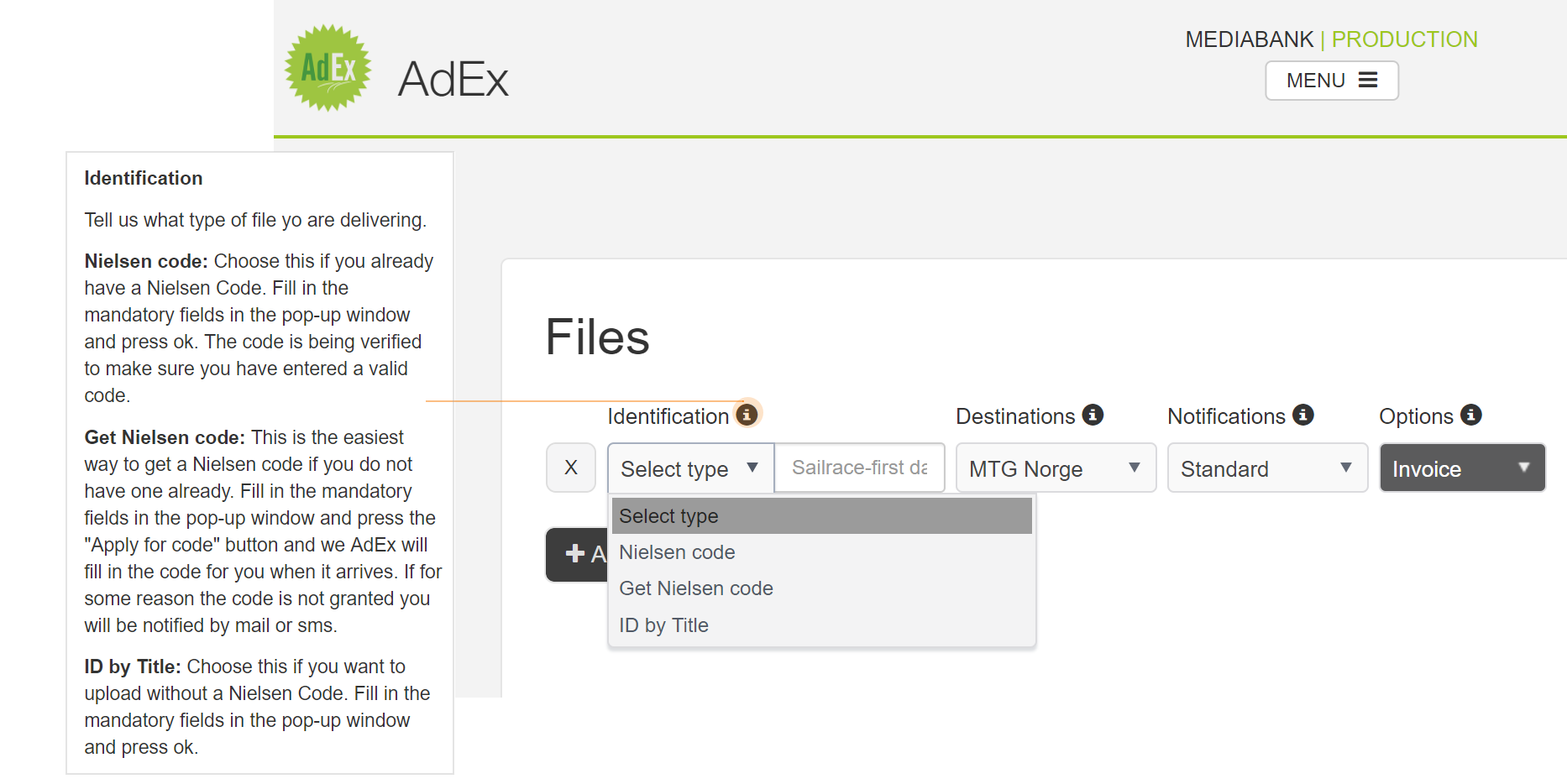 Nielsen code:

Your file DNA that contains codes which will be decoded into essential file information when checked out and uploaded. Check out Nielsen web site for more information about the Nielsen code here:
www.nielsen.com
Get Nielsen code:

Applying for a Nielsen code. You will be prompted with a new popup box where you fill out necessary information needed to create a valid Nielsen code. It will automatically be embedded into your delivery after your final submission. It's plain magic!

To the right of the "Select type" dropdown menu, the mediafile "Sailrace-first day" is ready for upload.

Delivery without Nielsen code

You may also deliver your commercials without the use of Nielsen code. Select "Id by Title". A template will pop up and help you to add the proper metadata. In case of multiple Advertisers or Brands, separate them with the use of comma.

Below, you can see the different templates.


Destinations

Your destination is MTG Oslo Broadcast center (Only available destination in your Template).

Notifications

Unless you are notified to use notification lists, you can leave it and continue using "standard" In any other circumstances, click in the notification box and select from the predefined notification lists.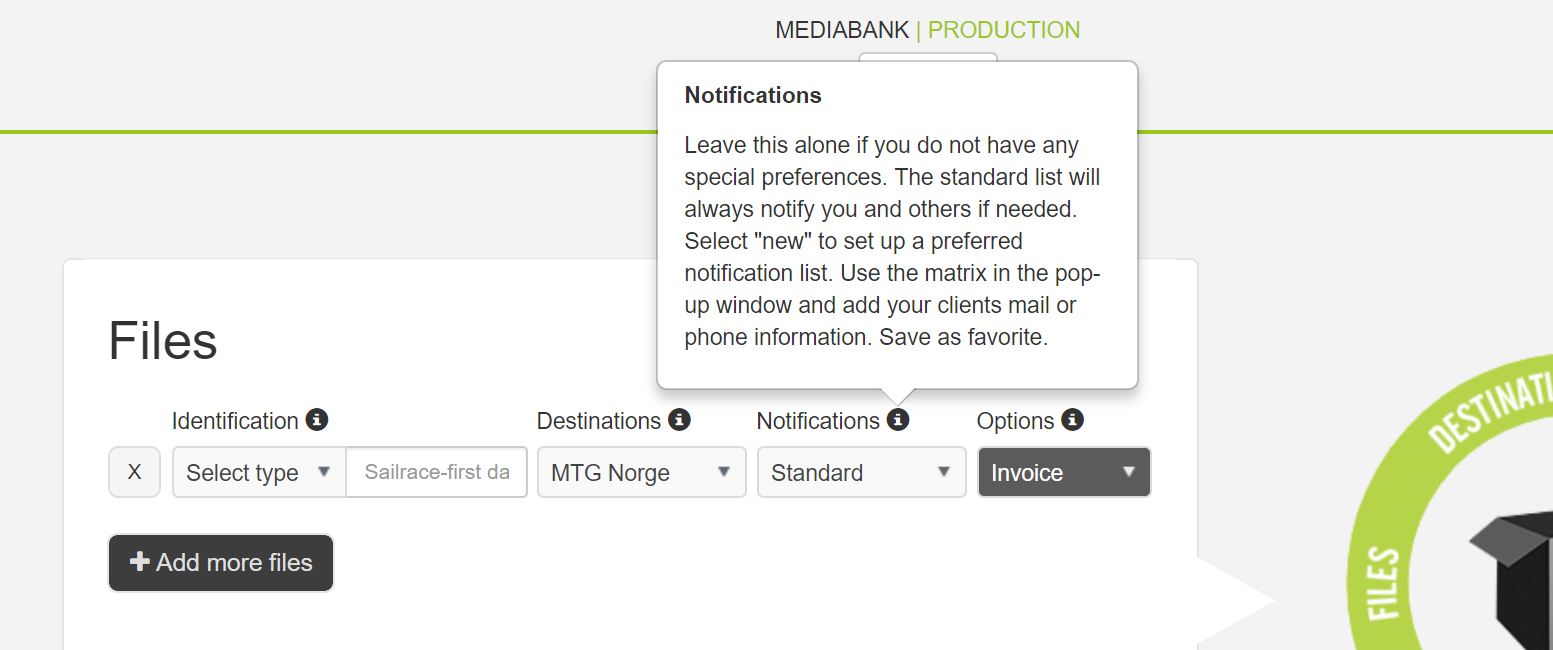 Options

To ensure correct destination for your media files, Mediabank provides metadata templates for the uploader to fill in. To secure the quality, several predefined Tags are available and can easily be selected from the drop-down menus.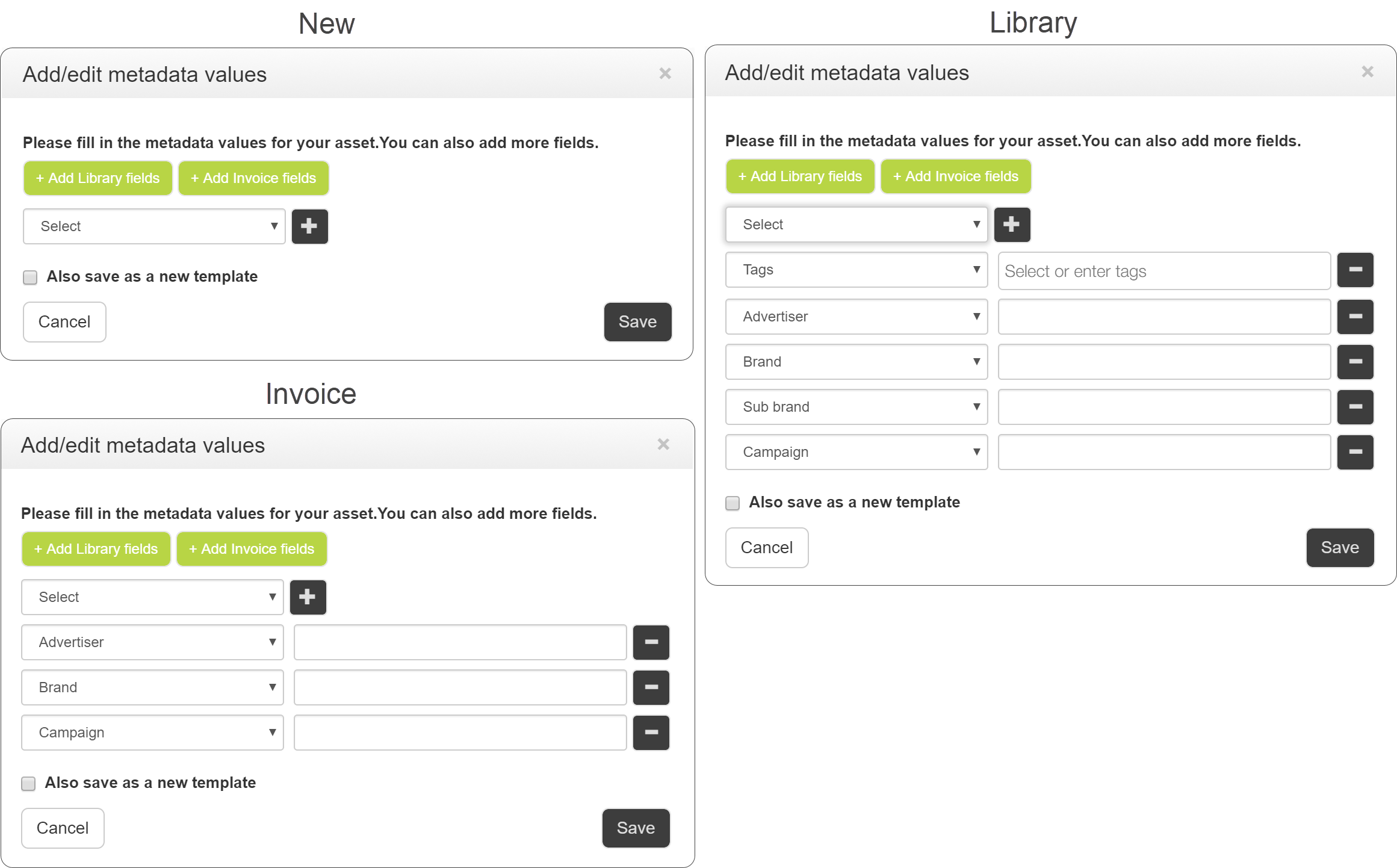 When finished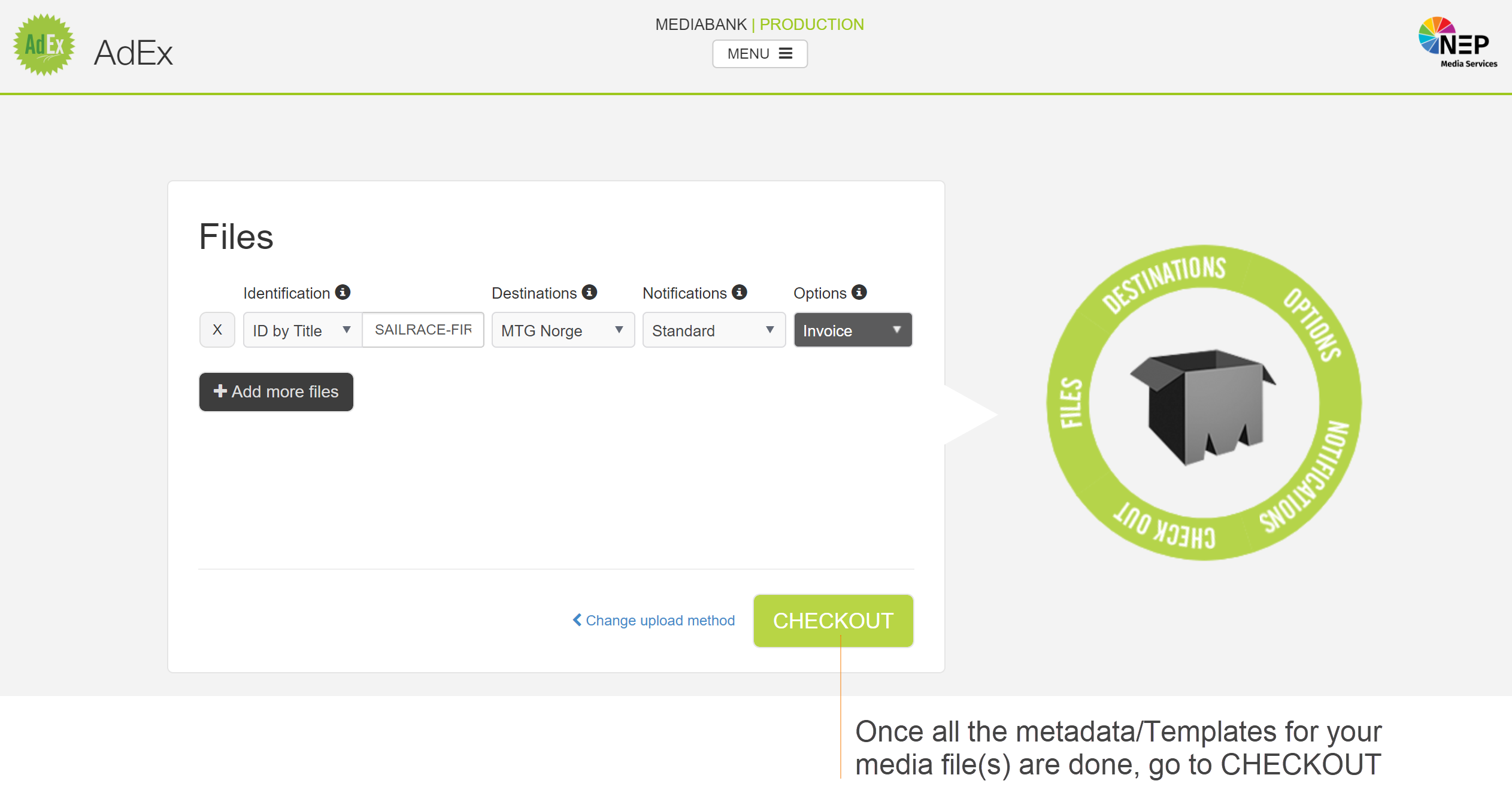 After pressing CHECKOUT, you will be transferred to the final step (image below) before the media file(s) are uploaded. Read trough and verify the Delivery confirmation. Then click to accept the "terms & conditions" and proceed to "Confirm checkout". Your upload have started.

If you find mistakes like missing/wrong media file or any other irregularities, you can press "Go to files" to make your corrections and then go to CHECKOUT again.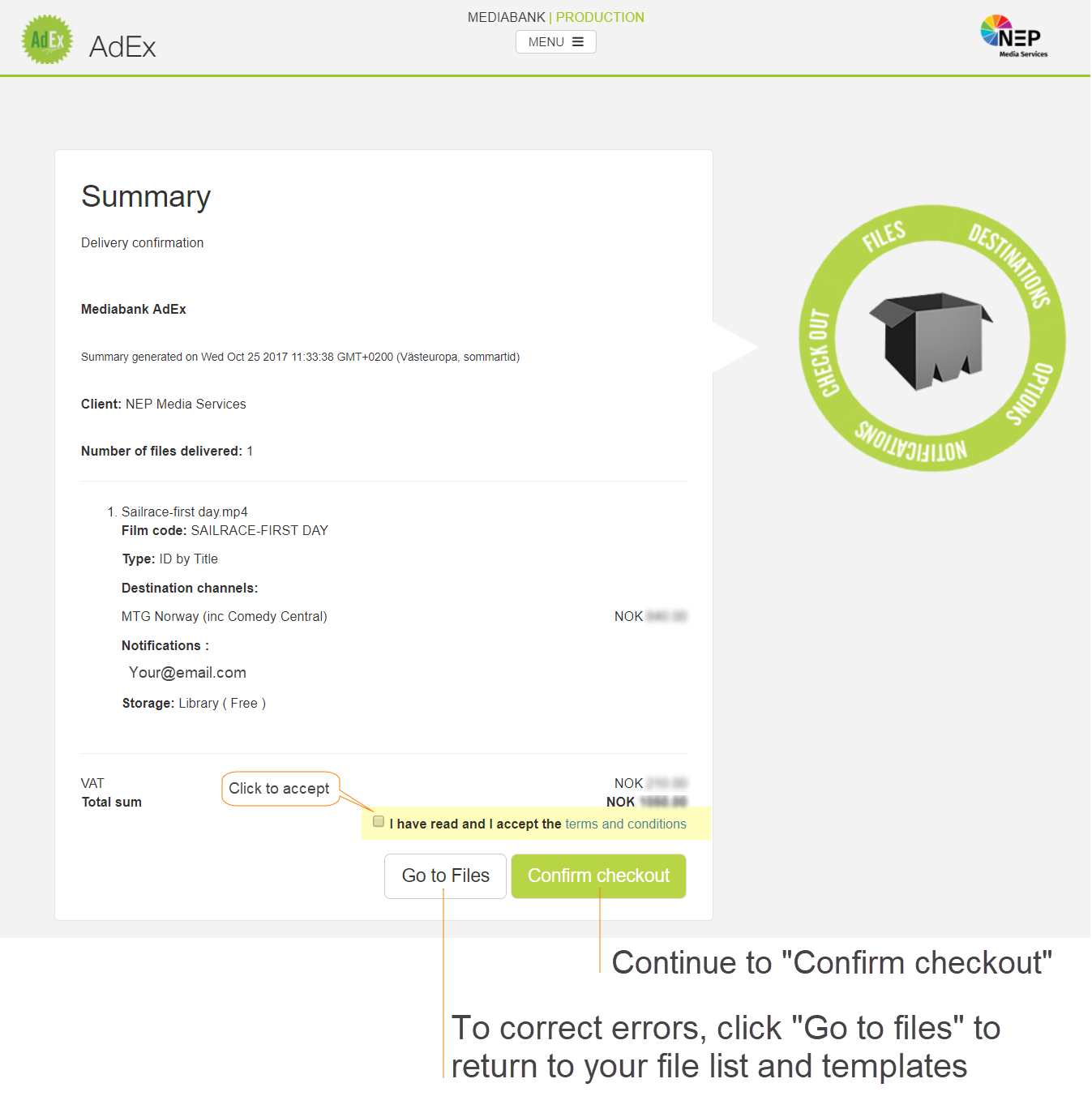 You have finished your commercial delivery